Jivox Powers Privacy-First Personalization At Scale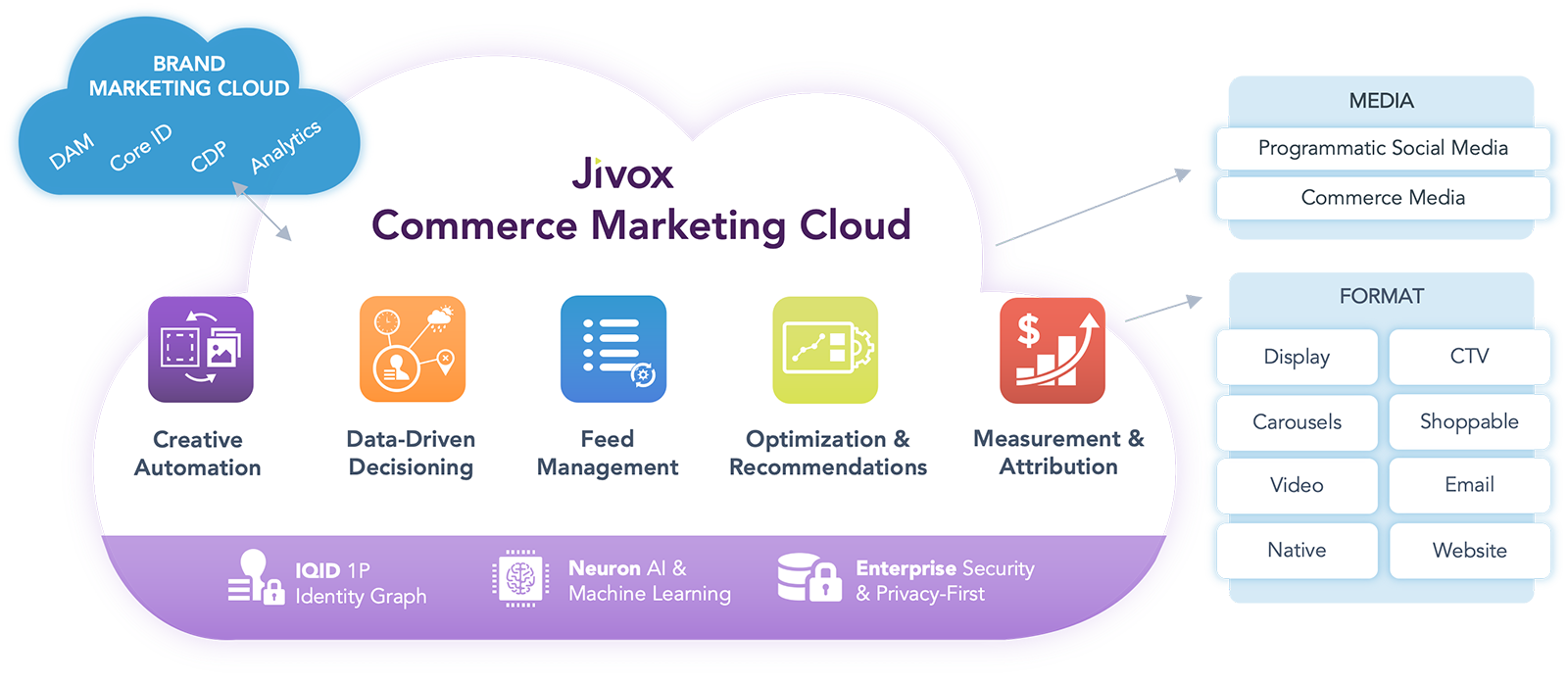 Jivox is a cloud-powered platform designed to solve the problems of marketers in a privacy-first, omnichannel world.
By unlocking flexible creative automation and combining it with decisioning built on first-party data, marketers can ensure every touchpoint is personalized for their customers and continually optimized.
CREATIVE AUTOMATION
Creative Flexibility At Scale With Dynamic Canvas Studio
Dynamic Canvas Studio offers designers complete freedom and flexibility when automating creative production for display, video, carousels, social and more.
Combine with product feeds for engaging dynamic product ads that save time and increase relevance.
Work with existing creative tools, save on production costs and launch personalized campaigns quicker than ever.
DATA-DRIVEN DECISIONING
Decision Graph Empowers 1:1 Personalization With Ease
Personalizing content across channels for different audiences and hyper-relevant microsegments requires a sophisticated blend of methodologies.
A rules-based UI to easily build out complex logic based on triggers such as contextual signals or first-party data segments
AI-based logic to enable sequential messaging and optimal ad experiences through testing
Feed-based decisioning to streamline setup based on the product feed content
AI/ML-POWERED OPTIMIZATION
Optimize + Recommend + Predict = Drive Relevance
Real-time optimization and recommendations at scale are made possible by Jivox proprietary machine-learning algorithms. Brands have full control over metrics and methodology.
Automatic optimization of creative based on chosen metrics to achieve the best combination of assets
Recommend products in ads based on user behavior, bestsellers and more to drive sales
Score users based on intent and combine with product ranking to predict the right moment for the right offer
ANALYTICS. ATTRIBUTION. AUDIENCE.
Analytics and Attribution
Harness the power of IQ Blaze by Jivox, designed to handle the enormous amounts of data generated from true 1:1 personalization in a privacy-first world.
IQ Blaze offers interactive liveboards and AI-powered charts that bring your campaign data to life in real time. Our sophisticated, privacy-first omnichannel attribution built on Data Clean Room technology helps brands trace each customer's journey seamlessly, replacing guesswork with concrete insights.
FIRST-PARTY IDENTITY AT THE CORE
IQID First-Party Identity Graph
A consistent view of the customer journey requires a first-party identity solution fit for a world without third-party cookies.
Jivox IQiD Identity Graph captures all consented user data across Jivox and connects to a network of other privacy-first identity solutions to give the brands a sustainable way to track performance.
Ready To Take The Next Step?
Understand how you can harness your data to successfully personalize your digital marketing at scale.